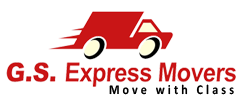 About G.S. Express Movers
Opportunity is one which save people's time and people who are opportunist, they save time and money.
GS Express Movers is one of the finest moving companies serving such opportunists with their services. For the past 14 years we have served more than 10,000 satisfied customers and millions awaited. We provide all types of moving services and storage needs in as simple and compact ways.
Services we offer:
If you are looking for a local movers in Mississauga, Toronto or Brampton who can provide excellent moving services, look no further.
We offer a full range of services that are designed to handle the each and every detail of your move. Our aim is to provide you with a worry free moving experience.
Our expertize lie in Residential Moving services, Office Moving services and Long Distance moving services in Toronto, Mississauga, Brampton and GTA.
Moving family and personal home stuff from door to door comes under residential category. We have special designed packaging tools and equipment's which helps your stuff to be handled in a better way to keep them safe. We have a repeated and professional outlook in competition and we respect the same by maintaining our customer satisfaction ratio. If you are on this page, you are most probably looking for an experienced,reputable residential movers for your home moving.We offer Insured storage space as well to protect your belongings and to ensure your move is planned properly. Our residential moving services are available in Toronto, Mississauga, Brampton and GTA.
From furniture to files, we move all your office stuff. We value your office time and budget. Never the less if your boss wants you to move everything in just a blink of time, you know whom to call. GS Express Movers serves and satisfies all bosses and brings smile to your peers and superiors. We also value your budget and thereby don't give you option to say NO as we offer affordable and quality services. Based in Toronto, we serve Mississauga, Brampton and GTA along with Toronto.
Trust your next Office Move to G.S. Express Movers and let us serve you with best moving experience.
We know the stress involved in long distance moving of your home or office. At G.S. Express Movers, we take a professional approach to long distance moving jobs. Whether you are moving from Toronto to Ottawa or anywhere in Ontario, we are your best companion.
We believe in customer satisfaction and that's how we begin - providing you detailed and accurate estimate. We provide customized plan for you. Rest assured, your valuable belongings are secure and in safe hands. We make your moving experience hassle free and deliver you in time. GS Express Movers commitment to exceptional customer service in all areas of our business. Look no further for your next long distance move.
Service commitments we offer:
- A commitment of honest price and best business practice
- A commitment of care and concern for client needs.
- A commitment of focus on efficiency, teamwork, and excellent client communications.
At GS Express Movers, we exceed our customer's expectations in customer service, distinguishing ourselves from our competition. We strive to be the best in our industry providing the higest quality product, service and equipment.
What we have learned in our business life cycle is that we are still at introductory stage, where we expertise newest challenges of customer satisfaction. Our most important service parameter is to provide clean and maintained transportation facilities which helped us to attain 100% success rate, and we ensure to our potential clients that we have always satisfied our all customers and your would not stay untouched. We schedule delivery at your convenience.
G.S. Express Movers can be your partner of choice whether you are moving your residence, office or you are moving in or out of Toronto and GTA.
We are located in Toronto and serve across Toronto, Mississauga, Bramton, GTA and across Ontario.
Testimonials

Jay Babbar, Woodbridge ON
"GS Express Movers did an outstanding job with moving our house. The best thing I like about them is that they give a personal visit to your premises to provide a free estimate. They also asked questions when they needed clarification. They all did a terrific job in timely manner, worked as a true team, and are to be highly commended for their top notch efforts!"
Read More...

Ankit Gaba, Richmond Hill ON
"Estimate given by G.S express movers was much lower than others , so we went with them. Two-man team that came round to move the contents of our house were fantastic, really hard workers and professional, knew exactly what they were doing and completed the move in a remarkably short time considering the distance we were travelling. Greatly appreciated"
Read More...